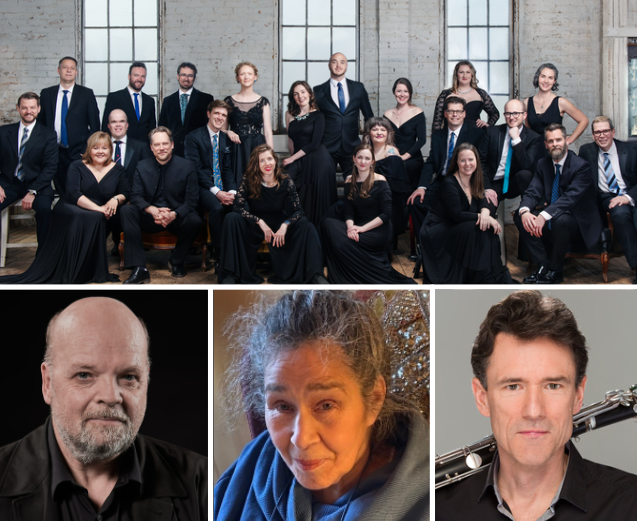 Voice of the Weaver
$45 | $10
Peter-Anthony Togni, composer
Mary Louise Martin, poet
Jeff Reilly, bass clarinet
The Elora Singers
Ticket holders are invited to arrive early for a pre-concert chat at 3:00 PM with composer Peter-Anthony Togni.
Voice of the Weaver is a five-movement concerto for bass clarinet and chamber choir by the Halifax based composer Peter-Anthony Togni and Mary Louise Martin, a Mi'kmaw artist, poet and writer from Millbrook First Nations in Nova Scotia.
Bass Clarinet and choir is a unique but potent combination of forces that Peter-Anthony Togni and bass clarinetist Jeff Reilly have explored extensively in a series of works created over the past 2 decades. Voice of the Weaver is the most recent product of this fruitful partnership.
Peter-Anthony's setting is based on Mary Louis Martin's poem, it is good to be reminded of the weaver. The poem reminds us that life is built on a series of tiny episodes in our minute-to-minute experience, episodes that can often hold great meaning. Humanity is noble and graceful, but then so are the tiniest of spiders producing and weaving their beautiful silken threads. Mary Louise Martin reminds us that we are no greater than these tiny ancient weavers.
It is not just the small experiences Mary Louise Martin asks us to reflect on, she also invites us to look out beyond ourselves and to know that we are all related and connected. As we stand underneath the tall overwhelming cedars, the great trees are in her words "dancing our spirit!".
Peter-Anthony Togni was deeply inspired by it is good to be reminded of the weaver. In the process of creating the music for this poem, and through playing the music to her and working with her thoughts and ideas, Peter-Anthony has developed a long-lasting friendship with both the poet and her sister Cathy Martin.
Voice of the Weaver explores the spiritual, dynamic relationship between the overwhelming awe we feel for the giant forces of nature on the one hand and the simple actions of the day to day on the other.  With intense choral clusters and soaring soprano lines invoking what Martin calls "patterns of great beauty in and through the standing ones" to clear, elegant figures reflecting that "events are quite… are quite ordinary" Peter-Anthony Togni captures the full impact of Mary Louise Martin's visionary poetry.
In the end all is summed up in the simple but profound final two words of the poem, "wela'lin niscum" or, thank you creator.
Sponsored by Randall Howard and Judy McMullan and the Centre Wellington Community Foundation.